25 Aug 2023
Egypt's CIA and Singapore's CAI to map out Cairo development: part two – competing airports emerge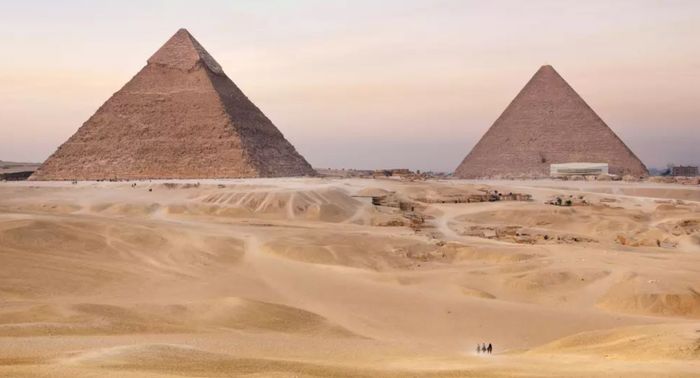 Changi Airports International provides consultancy services to develop Cairo's main airport
In part one of this report CAPA - Centre for Aviation reported that Singapore's Changi Airports International (CAI) and Cairo Airport Company have signed two consultancy agreements to develop Cairo International Airport (CIA) jointly.
The companies will collaborate to implement solutions to improve the overall passenger experience at the Cairo airport. Additionally, they will conduct a technical feasibility study for the development of 'Cairo Cargo City – a planned new cargo and logistics area at CIA.
The report highlighted how Egypt's Minister of Civil Aviation Mohamed Abbas Helmy sees the partnership as a strategic plan to strengthen Egypt's position as a passenger and cargo hub and looked in closer detail at the arrangement and the operations at CIA.
Here in part two CAPA acknowledges that CIA will face pressure from two competing airports serving the Egypt's primary market.
Two competing airports emerge: to the east and the west
CIA does not have it all its own way. There are two competing airports.
Cairo Capital International Airport (CCIA) is the primary international airport serving the new capital of Egypt, which is yet to be given a name. It is located approximately 45 km (28 miles) east of Cairo.
The airport has an area of 16sqkm (6.2 sq miles) and it is expected to ease pressure partially on CAI.
It is operated by the Egyptian Airports Company and owned by the Egyptian Armed Forces, hence having an obvious military role.
Commercial operations began in 2020 following a one-month trial period in the previous year – and just as the COVID-19 pandemic got under way.
The airport has a main building covering an area of 5,000sqm (54,000sqft) and its land facilities have a capacity of one million passengers per annum (expandable). It will serve the public as well as petroleum companies, private jets and air taxi flights.
There is a passenger terminal with a current capacity of 300 passengers per hour, eight parking spaces for aircraft, 45 service and administrative buildings, an air control tower and a 3,650 metres (11,980ft) runway, equipped with lighting and automatic landing systems.
An airport for the future, meaning – when the government shifts to the new capital in its entirety
CCIA is very much an airport for the future.
As of May-2023, 14 ministries and government entities had relocated to this New Administrative Capital. It will cost more than USD100 million to move the entire Egyptian government there from Cairo, but a full cost and timeline for the overall project has not yet been revealed. Presumably all government travel will be expected to take place from CCIA wherever it is feasible to do so.
For the moment there are only seasonal charter flights operating commercially.
Sphinx International Airport has emerged from old Cairo West Air Base
Of greater import in the immediate future is Cairo Sphinx International Airport (SPX) to the west of the city – the old Cairo West Air Base, a military facility used by the Egyptian Air Force.
The Egyptian government redeveloped the base into a commercial facility to facilitate airline services to alleviate capacity issues at Cairo International Airport.
The airport was renamed as Sphinx International Airport, ahead of the launch of commercial services. It was inaugurated in Jan-2019.
Very low initial traffic has mushroomed in 2023, mainly on LCCs
Passenger numbers were very low in the first year and did not improve markedly during the three COVID-19 pandemic years.
However, in 1H2023 there were almost 51,000 users, which was an increase of 590% over the whole of 2022.
Almost all the seat capacity is on international flights and is spread across mainly low cost carriers, which have 93% of that capacity in total. (By contrast, the LCC ratio at CIA is 20%).
The Sphinx airport also has a much greater degree of utilisation by foreign airlines (90% capacity) compared to CIA (43%), but there are no alliance member airlines represented.
In Aug-2023 easyJet announced it would inaugurate a brand new route to Cairo from London, serving SPX. The flight from London Luton will commence from 31-Oct-2023 operating three times weekly during the northern winter season and will be flown all year round. This will be the first time the airline will operate to the Cairo and joins the popular Egyptian leisure markets of Sharm-el-Sheikh and Hurghada in its network.
Wizz Air had previously announced plans to serve the London Luton - Cairo Sphinx market. It will also serve the route on a three times weekly basis from the end of Oct-2023.
But utilisation at SPX is still patchy and sporadic
At present the utilisation of the Sphinx airport remains low.
The chart is for Tuesday 22-Aug and represents the busiest day of the week. On other days capacity is spread around different hour slots and falls as low as just four hours of utilisation out of 24.
CIA to become the main full service passenger and cargo base while the Sphinx Airport caters to budget tourists?
Putting the Cairo Capital Airport aside, it is possible that CIA will become the main full service/cargo/logistics airport for the 10 million population capital while the Sphinx Airport takes on more of a tourist-oriented low cost facility utilised mainly by foreign airlines.
It is, after all, named after one of Egypt's most famous tourist landmarks and one which, together with the Pyramids, is located slightly closer to that airport than it is to CIA.