03 Jul 2023
Egypt gets China-funded satellites in step towards space industry ambitions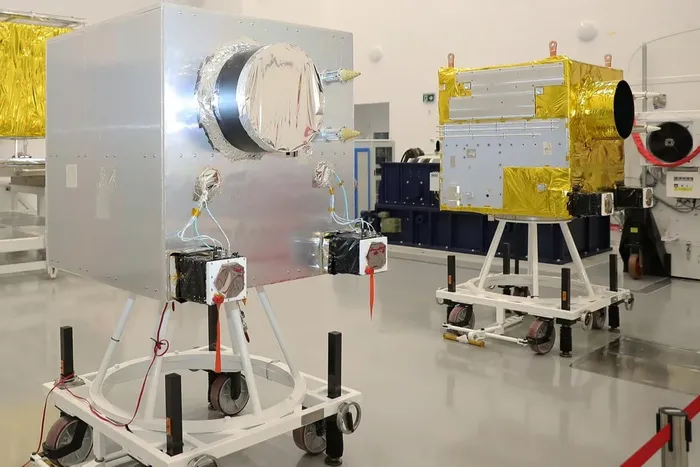 With the help of China, Egypt now has the capacity to assemble, integrate and test satellites, as the North African nation seeks to position itself as the continent's space industry powerhouse.
Egypt took delivery of two China-funded prototypes for the MisrSat-2 satellite project on June 25.
The satellites will be assembled and tested at a centre, also financed by China, at the Egyptian Space Agency near the country's new capital city. China provided a US$74 million grant for the project, as well as US$68 million for the satellite assembly, integration and test centre to be built.
Over the past three months, engineers from Egypt and the China Aerospace Science and Technology Corporation have been conducting tests on three MisrSat-2 satellite models – two prototypes and a flight model.
Chinese ambassador to Egypt Liao Liqiang said Egypt would be the first African nation that could assemble, integrate and test satellites.
"Egypt is the first country to which China handed over the satellite cooperation project outside China, and the first country with which China cooperated to complete the large-scale trial operation of the satellite outside China," Liao said at the ceremony to present the grant to the Egyptian government.
He said Beijing was keen to work with Egypt to advance cooperation in space, and to continue deepening the comprehensive strategic partnership between the two nations.
The satellite is expected to be launched from China in October.
Nigerian space scientist Temidayo Oniosun said China had taken a prominent role in partnering with African institutions to develop their space programmes.
He said that in addition to Egypt, China had bilateral agreements with 13 other African countries covering space technology, training and ground infrastructure.
Like other countries such as Russia, the US and Europe, China is always exploring new business opportunities on the continent," Oniosun said.
He said the African space industry was growing – generating about US$20 billion in annual revenue – and everyone wanted a slice of it. "It is also a critical tool for international diplomacy, and this defines China's long-term plan on the continent," he said.
At the ceremony last month, Egyptian Minister of International Cooperation Rania al-Mashat thanked China for its support. "The advanced devices and effective technology are important for Egypt as they open a gateway for cooperation with Africa in this field," she said, adding that the new satellite centre would be a major boost for research, development, measurement and monitoring.
Dr John Calabrese, a senior fellow at the Washington-based Middle East Institute, said that since its inception in 2019, the Egyptian Space Agency had sought to expand cooperation on space science and technology not just with China but other nations including the US, Russia, France, India and, most recently, South Africa.
President Abdel-Fattah el-Sisi, in an effort to boost Egypt's economy and status, moved ahead with plans to build an elaborate "Space City" on the outskirts of Cairo last year. After that, an agreement was struck to build the African Space Agency headquarters there.
Calabrese also noted that the satellite venture with Egypt was not China's first foray into space cooperation with an African nation. China has previously helped Nigeria, Ethiopia, Algeria and Sudan launch communication satellites.
He pointed to the perceived socioeconomic benefits for African nations developing space capabilities, but also to the "two levels of competition simultaneously at work".
"Competition among key African states 'racing' to become leaders in this sector, and competition among external players – especially China and France – to secure contracts in Africa."
He said China's pursuit of space cooperation in Africa also appeared to be another "layer" of Beijing's Belt and Road Initiative, part of the so-called Spatial Information Corridor.
"As the [belt and road] has evolved, so too have the features of its space cooperation, from selling the large hardware to selling the services and digital applications," Calabrese said.
From a US perspective, Calabrese said there could be concerns over African dependence on Chinese-provided services. Also the commercial "losses" if African nations were to subscribe to the Chinese BeiDou global navigation system as opposed to the US GPS or European Galileo services.
He said high-resolution satellite imagery could deliver numerous benefits, including helping to monitor crop water consumption – a key development for countries with growing populations that face water and food insecurity.
Rorisang Moyo, an independent space industry analyst, said the satellite project was among many commitments on space between China and Egypt.
Moyo, a Zimbabwean living in South Africa, said Egypt was strategically placed to be a centre for satellite assembly since it had access to Europe and Africa and was bordered by the Mediterranean Sea to the north and the Red Sea to the East.
She said China had 28 space agreements with African nations – the most of any country – spanning everything from earth observation and capacity development to satellite navigation, communication and astronomy.
During the 2021 Forum on China-Africa Cooperation in Dakar, Senegal, agreements were signed to boost cooperation on space technology, promote Africa's space infrastructure development, and use the space industry to drive social development and improve people's living standards.
"China's strategy seems to be targeting the most profitable segments in Africa," Moyo said.
"China's game plan is to get into the Africa space race early on."