17 Jul 2023
Egyptair is focusing on restoring its operational capacity efficiently, and expanding its fleet and network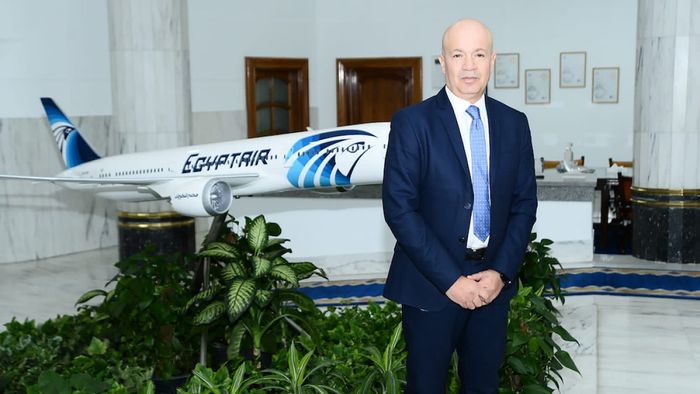 Yehia Zakaria: Chairman and CEO of Egyptair Holding Company says "We are recovering with a focus on the serviceability and availability of our aircraft as well as the expansion of our network.
EgyptAir group is bouncing back and returning to growth, buoyed by good indicators. It announced a profit of more than $31 million for the first half of fiscal year 2022-23.
"Egyptair did not lay off any workers or members of its teams during the pandemic. We have been focusing on restoring our operation very fast and efficiently. We are recovering with a focus on the serviceability and availability of our aircraft as well as the expansion of our network ", said Yehia Zakaria who has been piloting one of the largest aviation groups in Africa since October 2022.
Like other airlines, Egyptair is also facing aircraft availability issues while manufacturers are battling to keep production lines going. Suppliers are urging clients to place early orders as the systemic problem in part shortages persists.
Egyptair has a well-defined fleet expansion and improvement strategy to support its route development plan. The airline's ambition is to bring to 96 the number of destinations, including Europe and Latin America (Brazil and Argentina in partnership with tour operator Master Flights), against 72 today. The New York route will also be enhanced.
Two B787 Dreamliners will join the national carrier's fleet by end-2023.
Last February, the airline became the first African operator of the A321neo out of the seven aircraft ordered. This acquisition will enable Egyptair to enhance its efficiency, reduce operating costs, meet its commitment to sustainability and face competition, while fueling its expansion plan.
"We have published a Request for Proposal (RFP) for ten widebodies. We are also negotiating to acquire narrowbodies according to availability. We are looking for permanent solutions regarding plane acquisition and engineering as there are supply chain problems. We have to make fast decisions. Time is a very critical issue", added Zakaria.
Egyptair has a very ambitious plan to expand its routes including Manchester in July 2023. It resumed flights to China (Beijing /Guangzhou and Hangzhou) after a three-year hiatus.
"There is a lot of potential in China as the country is getting back. We are thinking about Shanghai. As for India, we already fly to Mumbai, we will now add Delhi to our network. "
The national carrier of Egypt fully supports cooperation and partnerships between African airlines through AFRAA and its membership within the Star Alliance.
"We are IOSA certified and provide maintenance services with international standards not only to the Egyptair, Air Cairo and Nile Air fleets, but also to other airlines such as Qatar Airways. We work with 136 airlines worldwide" said Yehia Zakaria.
In early 2020, Egyptair Maintenance & Engineering, the technical arm of Egyptair Holding Company, had a solid plan to expand its presence in Africa. It had planned to launch maintenance stations at a dozen African airport destinations. But due to the pandemic, the group was obliged to change its roadmap. Yet, it opened a maintenance station at Kotoka International Airport in Accra, Ghana.
The group has also an installation in Khartoum, Sudan which is temporarily closed due to current situation there.
Egyptair holding Company and Egyptair Maintenance & Engineering hosted the 31st MRO Africa 2023 & the 10th African Aviation Training Conference & Exhibition last February in Cairo.
The company signed important agreements during the event, including one with JAT Tehnika, a major MRO player in Europe. Both parties are foreseeing added value through this contract. It also signed a partnership contract with Jordan's Petra Aerospace in the field of repair and overhaul of CFM56-3 engines. According to Eng. Walid El-Khafif, Chairman and CEO of Egyptair Maintenance & Engineering, "the partnership includes marketing of the capabilities of the engine workshop to attract more customers in Africa, Asia and Eastern Europe".
Egyptair Training Academy seeks to maintain its leadership in training with the highest international standards in the aviation industry. It is improving its training programme by integrating new technologies into its full set of training simulators - the Academy is the first African training body to launch a simulator for the latest Airbus A320Neo aircraft.
It offers modern and diverse training programmes for pilots on A320, A320neo, A220-300, A330, A340 and Boeing B737-800, B777 simulators and advanced training devices for cabin crews like the Cabin Emergency Evacuation Trainer (CEET) and the Cabin Service Trainer (CST).
Egyptair Training Academy has successfully passed the EASA recurrent qualification for the full flight simulators : A320 (neo /ceo), B737-800, B777-200ER.
It has also obtained approval for updating the A330-200 simulator to comply with the latest EASA regulation CS-FSTD (A) Issue 2 and ECAR 121.
The Academy is now targeting more pilots from African, Arab, European as well as Indian airlines.
It is ready to cater for training and upskilling needs of the transport sector.
Egyptair also has plans to increase its cargo capacity to take full advantage of its geographic location - not far from the junction between Africa and the Middle East.
Egyptair Cargo introduced a converted freighter of type B737-800SF to its current fleet of 3 A330-200P2F. This added capacity of 21 tons per sector for the narrow body and 55 tons for the wide body freighters will cater for the market needs and enhance the company's competitive advantage.Two more A330-200P2F will be introduced by the first quarter of 2026 for additional freighter capacity.
Despite significant headwinds during recent years, Egyptair will not be privatised, Yehia Zakaria recently told CNN. " Egyptair is the flag carrier and the only bird carrying the flag of Egypt all over the world," Zakaria said. He underlined that the airline "is not for sale".
Egyptair seems to be on the right track to cut losses stemming from the effects of the pandemic and return to profitability.