15 Jun 2023
Egypt has potential to be hub for sustainable aviation fuel production: US companies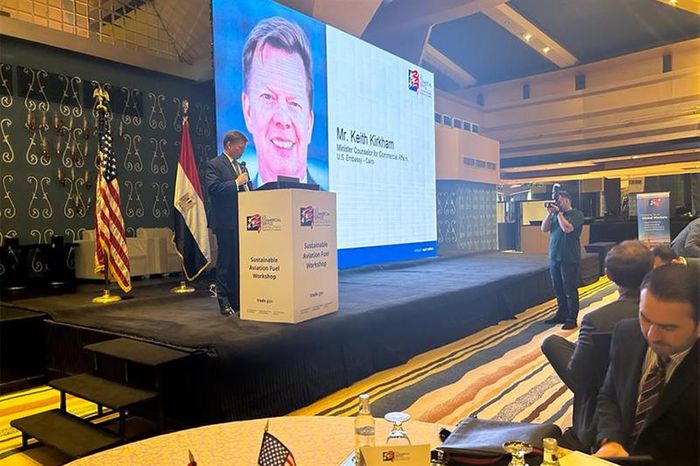 Egypt has great potential to become a hub for the sustainable aviation fuel (SAF) industry in the Middle East and North Africa (MENA) region, according to representatives of US companies participating in the Sustainable Aviation Fuel Workshop.
The US Commercial Service of the US Department of Commerce and the US embassy in Cairo organized the event that took place on Thursday.
On the sidelines of the event, Minister Counsellor of Commercial Affairs Keith Kirkham stressed to Ahram Online that demand for SAF is currently outstripping supply, affirming that such disparity between supply and demand will continue over the medium term and beyond.
"Egypt has the potential to become a producer of SAF and supply the MENA region and the globe with this high-demand product. Developing a proper infrastructure as well as applying regulatory framework is necessary", Kirkham said.
During the event, Kirkham said that US companies are currently exploring several avenues to cooperate with the Egyptian side in the field of SAF production, stressing that these companies are willing to establish partnerships in this respect with both private and public sectors in Egypt.
Meanwhile, Director of Fuel and Emission at EgyptAir Ahmed Mattar told Ahram Online that Egypt is qualified to be a hub of SAF production in Africa and the region, especially since SAF production accords with the country's 2030 vision.
Mattar added that the private sector has the potential to support Egypt's efforts in this regard through financial and technical assistance, thus accelerating climate action in the continent and region.
"Egypt has climate action-related commitments to fulfil by the start of 2025. As a state-owned company, EgyptAir has to fulfil the commitment to using two percent of SAF for all its flights. Otherwise, there will be a penalty that will certainly be more expensive than SAF cost itself. SAF is the future of aviation locally, regionally and globally", explained Mattar to Ahram Online.
In November 2022, EgyptAir operated its first SAF-run commercial flight from Paris' Charles de Gaulle Airport to Sharm El-Sheikh, as part of its strategy to cut carbon emissions.
In his speech, the Regional Head of Global Sustainability Policy and Partnerships at Boeing International, Mohamed Al-Ghailani, noted that the aviation industry is responsible for only 12 percent of global emissions.
Al-Ghailani also stated that the aviation industry's contribution to emissions might rise if aircrafts worldwide fail to shift to using SAF.
Speaking of numbers, he said that using SAF will help airline companies meet the future expected growth of the aviation industry.
In this respect, Al-Ghailani explained that the number of passengers is expected to grow from 4.5 billion to 10 billion by 2030 and that goods exchanged through aviation are projected to rise to 9 trillion, up from 7 trillion.
Jobs in the aviation sector will increase to 180 million, up from 87.7 million, he added.
Al-Ghailani also stressed that the Egyptian market has the potential that helps it become a producer of SAF, especially in light of the country's efforts to honour its commitments to sustainability through 2025 and 2030.
The attendees praised Egypt's efforts during COP27 – which the country hosted in Sharm El-Sheikh in November 2022.
They highlighted Egypt's initiative to create the Loss and Damage Fund, which should provide the required financial assistance to developing and least-developing countries grappling with the severe impacts of climate change.