14 Sep 2023
Egypt to launch climate-focused MisrSat-2 satellite in December: Egyptian Space Agency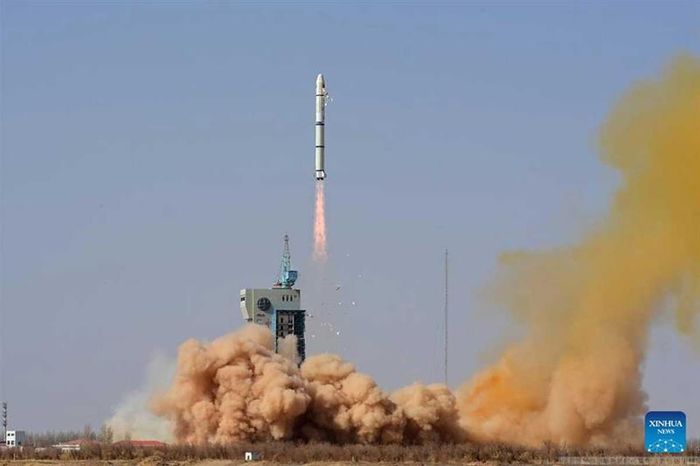 Sherif Sedqy, CEO of the Egyptian Space Agency (EgSA), announced that the remote sensing MisrSat-2 satellite, assembled and tested in Egypt, is ready to launch in December 2023, monitoring climate changes, desertification and land degradation.
Sedqy's remarks came during a ceremony held by the Chinese Embassy in Egypt on Wednesday titled "My Dreams in Space-Connecting Chinese Astronauts and African Teenagers" in the presence of China's Ambassador Liao Liqiang.
The MisrSat-2, also known as EgyptSat 2, was built using China's $92 million grant in February 2022. With Chinese cooperation, it was assembled and tested at EgSA's Satellite Assembly, Integration, and Testing Center (AITC).
Sedqy indicated that the MisrSat-2 satellite will track changes in Egypt's vital water resources and enhance resource planning, land management, agricultural output and urban planning in Egypt.
Attending the satellite's completion ceremony in June, Egypt's Minister of International Cooperation Rania Al-Mashat said the accomplishment underscores the strong collaboration between Egypt and China across various sectors, as well as their joint efforts to enhance Egyptian capabilities for domestic satellite design and assembly.
The Sino-Egyptian partnership in space was achieved via the AITC, the largest space centre in Africa and the Middle East, Sedky said.
Meanwhile, China's ambassador expressed his confidence that "Sino-Egyptian cooperation will achieve complete success and a better future under the planning and leadership of Presidents Abdel Fattah El-Sisi and Xi Jinping in the new era."
Regarding the completion of assembling MisrSat-2 in June, Ambassador Liao said the achievement positions Egypt as the first African nation with the capacity to assemble and test satellites.
EgyptSat-2 is set to be transported to China and launched in the latter half of this year, the ambassador said.
Sedky revealed future plans, saying Egypt is " developing the African Development Satellite in cooperation with Ghana, Kenya, Uganda, Nigeria and South Sudan. Additionally, we are working with Kenya and Uganda on a remote sensing camera, which will be placed on the Bartolomeo platform of the International Space Station."
Back in February 2019, Egypt won the bid to host the AfSA in Cairo's Space City, allocating $10 million for its operations. In January 2023, the African Union Commission (AUC) and the Egyptian government formally inaugurated the AfSA. The agency, which aims to launch space missions across the continent, will serve as Africa's main hub for collaboration with non-African space partners.
In statements to MENA in July 2023, Sedky revealed EgSA's plans to build a "satellite constellation" to strengthen Egypt's leading role in African space technology.
Brief of Egypt's satellites
In 1998, Egypt became the first Arab country to launch a telecommunications satellite into space with NileSat 101. It was followed by Nilesat 102 in 2000, which distributed hundreds of satellite TV channels.
In 2007, Egypt launched EgyptSat 1, which became the first Egyptian remote-sensing satellite. It was manufactured in cooperation between Egypt's National Authority for Remote Sensing and Space Sciences (NARSS) and Ukraine's Yuzhnoye State Design Office.
In 2019, Egypt successfully launched the telecommunications satellite Tiba 1 after postponing the launch twice due to technical difficulties.
In June 2022, the Egyptian multi-purpose communications satellite Nilesat 301 was successfully launched onboard a SpaceX Falcon 9 rocket to provide expanded broadband internet services covering Egypt.
In February 2023, Egypt successfully launched the "Horus 1" satellite from a launch base in northwest China, carrying a high-quality camera, in support of Egyptian development goals.
In March, Egypt launched its second remote-sensing satellite from China, Horus 2, to improve the use of Egypt's natural resources and boost exports.
The NExSat-1, a remote-sensing microsatellite designed for urban planning, is also expected to be launched from China in late 2023. Egypt's NARSS built the satellite in collaboration with Berlin Space Technologies (BST).