25 Jun 2023
Egypt, China completes testing of EgyptSat 2 satellite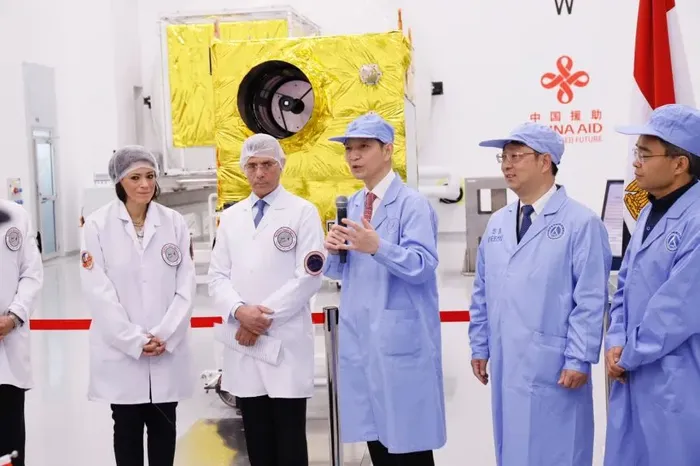 Egypt's Minister of International Cooperation Rania Al-Mashat witnessed the completion ceremony of the assembly and testing of EgyptSat 2 satellite, in cooperation with the Chinese side on Sunday, at the headquarters of the Egyptian Space Agency, in the presence of the Chinese Ambassador in Cairo Liao Liqiang along with representatives of the State of China and the Egyptian government.
Al-Mashat said that the completion of the assembly and testing process for the EgyptSat 2 satellite at the Egyptian Space Agency's Satellite Assembly, Integration and Testing Center, in preparation for its reloading and launch from China, reflects the close cooperation between Egypt and China in all sectors and efforts to localise process of designing, assembling and manufacturing satellites in Egypt.
Al-Mashat noted that the Satellite Assembly, Integration and Testing Center and the EgyptSat 2 satellite for remote sensing applications are among the most important projects being implemented from the Chinese grant resources provided to Egypt. The two projects are being implemented with two grants worth $92m.
She added that the project represents a unique model for knowledge exchange and effective cooperation between the two countries, in addition to confirming the Chinese side's keenness to support Egypt's priorities in promoting scientific research in general and supporting the Egyptian space programme in particular.
The minister disclosed that Egyptian-Chinese cooperation in this field will move forward to achieve more progress, which will be reflected in development efforts.
Chinese Ambassador in Cairo Liao Liqiang stated that China is keen to make joint efforts with Egypt to advance the development of cooperation in the field of space in an in-depth manner. Besides, continue comprehensive strategic partnership between China and Egypt, in a way that better serves interests of the two countries.
The Ambassador said that Egypt is the first country to which China has handed over a project for cooperation on the satellite outside China, and the first country with which China cooperates to complete the large-scale trial operation of the satellite outside China.
The total portfolio of cooperation with China amounts to approximately $1.7bn to implement many projects in various development sectors, including electricity, health, education, vocational training, and others. In 2022, technical cooperation for capacity building and human resource development was strengthened with the Chinese side through implementation of approximately 301 training programmes in fields of agriculture, trade, industry, electricity, communications, transportation, solidarity, health, planning, youth, sports, finance, culture and petroleum, as well as the Egyptian Space Agency, General Authority for Investment and Free Zones and the Suez Canal Authority.